Ah, Cozumel! Those of you who have ever spent as much as a few minutes talking to me have probably heard me go on and on about my annual scuba trip to this very special island located just off the tip of the Yucatán peninsula in Mexico. What could possibly make us return there year after year since 1997? Read on and find out for yourself.
Shortly after getting certified, my Sun colleague and scuba instructor Curt Harpold approached me to see if I and my other Sun colleague and dive buddy Ray Voight wanted to check out the dive spot that Jacques Cousteau once called the best diving in the world. Ray and I of course jumped at the chance and since Curt hadn't been to Cozumel in many years and was eager to return, we headed off with a handful of friends and others who signed up for the trip.
Curt did some digging and found a great deal for an all-inclusive resort on the island, Club Cozumel Caribe. Don't look for it anymore, though -- it unfortunately went out of business in 2002. But through 2001, it was our home away from home every February. That first trip in 1997 was so much fun we've made it an annual event since then.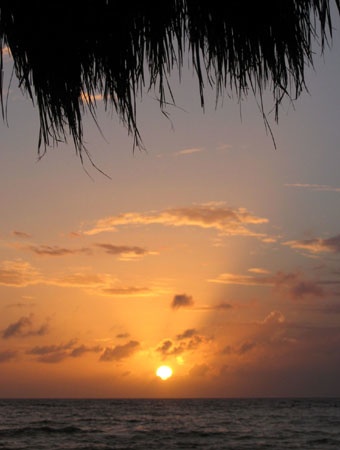 For scuba enthusiasts, Cozumel is ideal for both beginners and advanced divers. All of the popular dive sites are on the western side of the island and a steady northerly one- or two-knot current can be experienced on most days. The dive boat captains at Sand Dollar Sports, right next to the Club, are all very good at following our bubbles as we drift effortlessly along beneath the boat.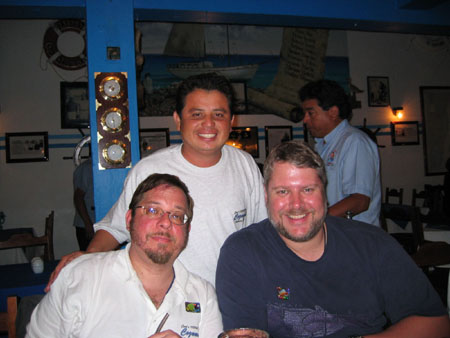 Cozumel is fringed by a coral reef system that is part of a chain stretching from the Gulf of Mexico to Honduras, and is among the largest reef systems in the world, second only to the Great Barrier Reef in Australia. Shallow reefs can be found from the mangroves on the shoreline out to about a mile, where the bottom slopes sharply down to about 3,000 feet. Right on the edge of the drop-off are huge coral structures up to 50 feet high that are as much as 10,000 years old. All of this means that you'll probably do at least a few wall dives on your trip and if you turn to face the deep blue abyss, you'll eventually find turtles, sharks, eagle rays, and the occasional pod of dolphins swimming by. If you keep very still and quiet you may also hear songs from passing whales from time to time. On the shallower reefs you can also find tangs, octopi, conch, barracuda, angelfish, crabs, lobsters, squirrelfish, scorpionfish, and many others, including the rare Cozumel splendid toadfish (I am not making this up: go see the underwater photographs at the bottom of the page). It's small wonder that Curt and I both chose this trip in 2004 to do dive milestones: Curt's 1,000th dive and my 250th!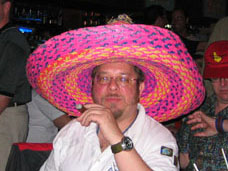 So what do we do when we're not underwater? The resort has plenty of activities to keep anyone busy, but we're also just a short taxi ride away from Cozumel's only town, San Miguel. The Cozumeleños speak enough passable English to sell you all kinds of Mexican goods, from leather to silver, all at great prices (make sure you haggle, though!) They also accept American dollars as easily as Mexican pesos, so you won't have to worry about getting your money changed. Shops surround the small town square and you can find plenty of tequila bars to wet your whistle and cheap eats to whet your appetite along the main road on the coast.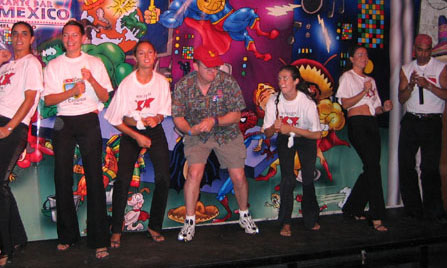 It has become a tradition that on our last night we treat trip leader Curt to dinner and some Cuban cigars for the stroll to the town square, where we take in the night life. On the left is a picture of Ray getting jiggy on stage with the Dos Equis chicks, who happened to be visiting the bar we stopped in that night.
But of course, the main reason Curt, Ray, and I go back every year is for the spectacular diving and the great deal. Be sure to check out the underwater photographs, watch the dive video, and sign up to join us next time!