Wakatobi Dive Resort is one of my favorite diving places in all the world. I have been there twice, in 2008 and again in 2012, and enjoyed every minute of both trips.
The resort is located in the Wakatobi National Park off southeast Sulawesi, Indonesia. The name "Wakatobi" is derived from the first syllables of the four islands that make up the archipelago: Wangiwangi, Kaledupa, Tomea, and Binongko.
Getting to Wakatobi can be an adventure in itself. It's a pretty long haul from Washington Dulles International airport to Singapore, which serves as a great "catch your breath" layover.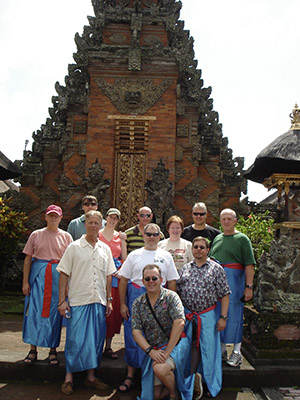 From Singapore, we always spend a couple of days in Bali. While there, we avail ourselves of the services of a private tour guide, Komang Wardiapa from bali-go-round.com, who expertly showed us the sights. Indonesia is a Muslim country, but Bali is an outpost of Hinduism, so we visited a Hindu temple along with some of the industry of Indonesia. We all brought back some world-famous Balinese coffee (the more adventurous of us actually tried and bought some kopi luwak) or a piece of hand-crafted woodcarving.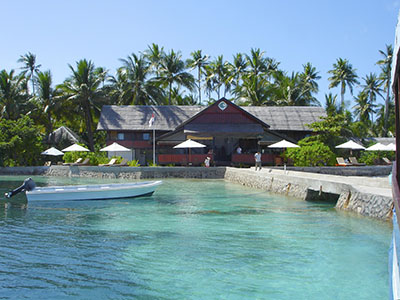 The dive resort is a first-class accomodation combined with a world-class dive operation. Each time I was there, I opted to stay in the fabulous villa #3, which features its own private plunge pool overlooking the water. The rooms feature soft beds, air conditioning, and internet connectivity (intended for posting pictures to make your friends jealous, not for checking work e-mail!). The restaurant is full of budding five-star chefs who are challenged by the owner to create at least two new items each day, so we ate like kings. All of the construction is done by local craftsmen on the premises and is designed to leave a near-zero ecological footprint in order to preserve the pristine nature of the surroundings.
The dive operation is staffed by a rotating group of young professionals and researchers from around the world who are drawn to Wakatobi by the unique wildlife. Each diver has his own generous table space for maintaining his camera gear in between dives and there are facilities for nitrox diving as well.