The White Spot diner is the culinary center of Charlottesville, VA, where I went to school. It's a little hole in the wall just before the railroad bridge on The Corner, downtown Charlottesville's row of shops and restaurants across from the University. For me, the draw of the White Spot was that you could walk in at any time of the day or night and see a cross-section of Charlottesville: the cop on the beat, the mailman, and local small businessmen and townies. And they always greeted us college students with a warm, inviting smile.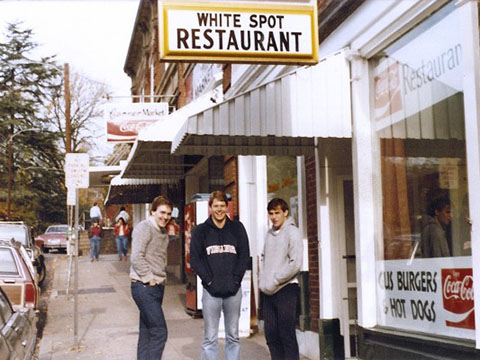 The White Spot's gastronomic fare is centered around its famous grill, mostly burgers and fries and such. The Spot is known for the Gusburger (a cheeseburger with a fried egg on top) that was apparently invented years ago by a Dr. Gus, who would come over from the University of Virginia Hospital across the street and order one every day for lunch. Gusburgers have fueled college students for decades.
But the pièce de résistance was breakfast featuring Nat Pritchett's world-famous sausage gravy. Nat learned how to make sausage gravy in jail, which just added a cachet to the experience for us. Sausage gravy was always served over toast with scrambled or runny fried eggs on top. Yeah, I know, it's a wonder we survived to graduation. But there's something to be said for a place you can walk into at any time of the day or night, order breakfast, and have no one ask any questions.
Here's a quick trivia quiz for my old college buddies to see if they can clear away the cobwebs of their memories. Good luck!
How to Score:
| | |
| --- | --- |
| 0 - 4 | Perhaps you would be happier at the Boar's Head Inn, just down the road a ways ... |
| 5 - 7 | You may serve drinks and french fries at the end of the counter with Robert Henry |
| 8 - 9 | You have earned the right to fill in for Fred Wood behind the grill one very late night when he doesn't want to be there |
| 10 | You are either John Meyer or Jim Wohlford |